Image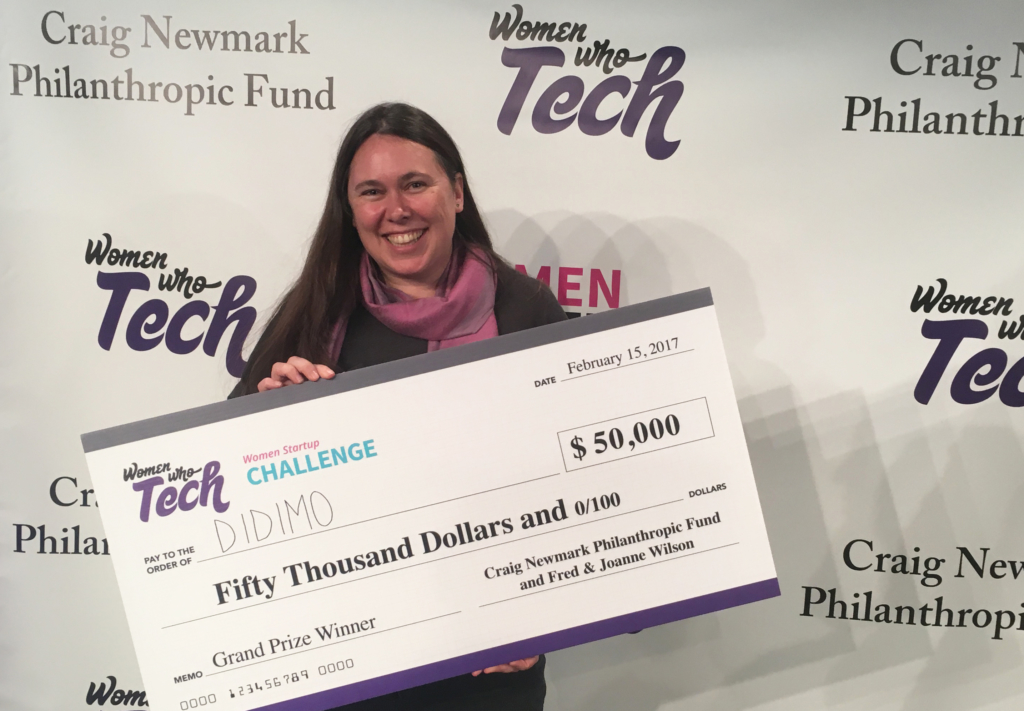 February 16, 2017
 Women Who Tech, a national nonprofit working in partnership with craigslist founder Craig Newmark to break down barriers to women in the tech industry, announced the winners of the Women Startup Challenge VR and AI. The "Shark Tank-style" competition was held before an audience of tech industry executives at Google's New York campus in Chelsea.
Didimo of Clayton, California received the grand prize -- a cash grant of $50,000 from the Craig Newmark Philanthropic Fund as well as $15,000 in legal services from Paul Hastings LLP.  Didimo automatically creates 3D virtual characters from a single photo; in about 2 minutes it creates a lifelike avatar that can speak, move, and represent you in a 3D world. Platform agnostic and compatible with all 3D environments, their technology can be used in games, social media, film, AR, and VR.
"We are grateful to Women Who Tech for believing in our mission and helping bring Didimo to the whole world. It was an exciting night, preparing the pitch for the event was enriching, and we were given the opportunity of sharing why we build Didimo with everyone. It has been an honor to share the stage with other amazing companies," said Didimo Cofounder Veronica Orvalho.
"This is our fourth competition," said Allyson Kapin, founder of Women Who Tech. "We've received many hundreds of submissions from female entrepreneurs whose product ideas are often brilliant and disruptive, and a few that could even be the 'next big thing.' We're just scratching the surface of the pent-up talent, as you see from the caliber of today's winners. It's all about giving women in tech some well-deserved recognition and support."
The competition's runners-up were Spirit AI and Addicaid, both located in New York. Both will receive $10,000 in legal services from Paul Hastings LLP.
Spirit AI is developing tools to craft more expressive characters, stories, and worlds in games and VR; players can communicate naturally with characters, be deeply understood, and have unique conversations. With this technology, they're also combating online harassment in multiplayer video games.
Addicaid is a digital addiction wellness platform for individuals with substance and process disorders, as well as for friends and family coping with loved ones in care. Addicaid is a dashboard for treatment centers and insurance companies to facilitate care delivery in an organized, intelligent, cost-effective manner.
The competition featured 10 finalists from a pool of nearly 200 entries from around the country, representing women-led startups working in the areas of virtual reality (VR) and artificial intelligence (AI).  All are in the forefront of VR and AI innovation and included ventures building self-driving non-automotive vehicles, 3-D immersive cameras, drone technologies, wearable tech for gaming, and other innovative technologies.
"Supporting women in tech is a big deal," said craigslist founder Craig Newmark. "The tech industry needs more women. We need their perspective and talent. But many aren't getting a fair shake. Only 10 percent of investor money goes to women-led startups, and yet women-led companies deliver a 35 percent higher return than those led by men. We need to level the playing field."
The panel of judges who selected the winners included investors Kate Shillo (Director, Galvanize Ventures), Kai Bond (Principal, Comcast Ventures), and Lisa Stone (Entrepreneur and Cofounder, BlogHer).
Other sponsors included startup investors Fred and Joanne Wilson, and the global law firm Paul Hastings, LLP, which will provide $35,000 in pro bono legal services.
Today's competition marks the fourth Women Startup Challenge since June 2015.  To date more than 1,500 women-led startups have participated and nearly $1M in cash and other prizes have been awarded to winners and finalists.
The Women Startup Challenge Europe will be held in London, May 3, at City Hall, and will be open to women-led startups based in the UK and Europe.