Image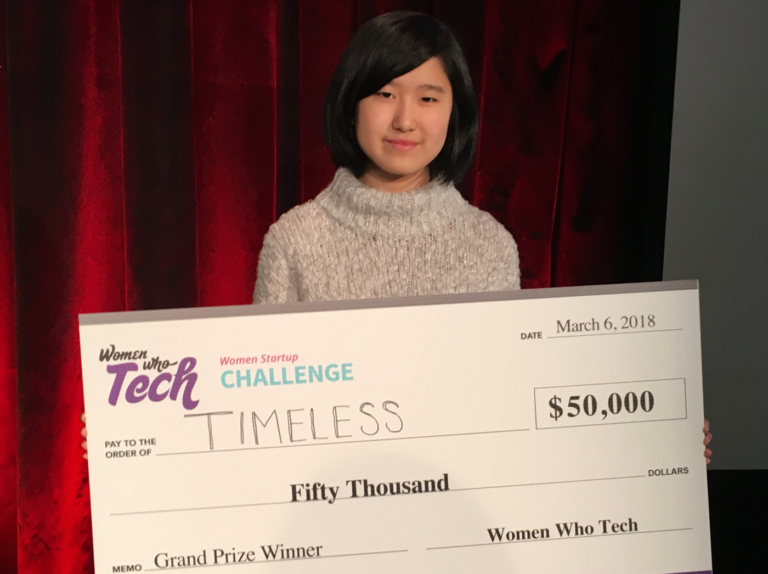 March 7, 2018
Women Who Tech, a U.S.-based nonprofit that advocates to close the funding gap for women in the technology and startup industry, announced Timeless as the grand prize winner of $50,000 at the Women Startup Challenge Emerging Tech, one of the largest events to showcase and fund early-stage women-led startups, held at Google's New York Campus on March 6.
Timeless is an app developed by 14-year-old Emma Yang to help people with Alzheimer's remember events, stay connected and engaged, and recognize people through artificial intelligence-based facial recognition technology.
The Audience Choice Awards went to:
Astral AR, a drone piloting system that uses IoT and helps law enforcement stop bullets, and detect guns and bombs through walls.
Solstice Energy Solutions created SHYFT, a platform for millions of households and businesses in emerging markets that struggle with intermittent or costly power, where users can remotely monitor, control, and manage all power sources, including solar, generator, converter, and utility.
Google awarded additional prizes totaling $280,000 in Google Cloud and Firebase Credits.
"The tech and investor world has relied on pattern recognition for too long. Only 1.9% of VC money went to women-led startups in 2017. For women of color, the stats are even more dismal. If the tech sector wants to truly innovate, then investors will need to be more intentional about diversifying their portfolios and be more inclusive. It's time to tackle the gap in venture capital funding head on," said Allyson Kapin, founder of Women Who Tech.
The competition featured 10 finalists from a pool of nearly 300 entries from around the country, representing women-led startups working in the areas of Augmented Reality, Virtual Reality, Biotech, Health Tech, Energy, IoT, Robotics, and Agriculture Tech.  Each of the finalists are in the forefront of emerging tech and included ventures who are building mobile water solution devices that pull clean, fresh water from air, an Augmented Reality computing platform that allows consumers to interact with holograms, a 3D printer that prints from plastic recyclables, among other innovative technologies.
"Women-led tech startups generate 35 percent higher return than those led by men. Yet, diverse founders aren't being funded nearly enough and we need their perspective and talent," said Women Who Tech advisory board member Craig Newmark, who is also the founder of craigslist and Craig Newmark Philanthropies.
Women Who Tech and the Women Startup Challenge is supported by Craig Newmark Philanthropies, Google, Pineapple Fund, Blanc & Otus, Clifford Chance, SSPR, Rad Campaign, V3 Broadsuite, Sheppard Mullin, SEO Naturale, The Yard, and Donna Griffit, Corporate Storyteller.
About Women Who Tech
Women Who Tech is on a mission to close the gender funding gap. We're shaking up a culture and economy that has made it exceedingly difficult for women to launch startups and raise capital. By showcasing women-led ventures through our Women Startup Challenges we put capital, mentoring, and resources behind women who are creating the most innovative tech companies so we can help them scale their products.